Multifunctional Vegetable Cutter With Drain Basket
Regular price
$34.99 USD
Sale price
$34.99 USD
Unit price
per
Prepare Professional-Looking Garnishes With This Amazing Chopper!
Are you looking for a multifunctional cutting tool that will help you slice garnishes?
Ditch your traditional cutting knives and switch to this remarkable Multifunction Chopper! This highly efficient chopper has 6 interchangeable blades for shredding, latticing, slicing, and mincing!
Designed with a unique drainage feature that makes it easier to clean the vegetable right away after cutting! Use it whichever you want to achieve that perfect salad, apple chips, onion rings, and more!
Keep your food preparation easy and clean by using this incredible Multifunction Chopper!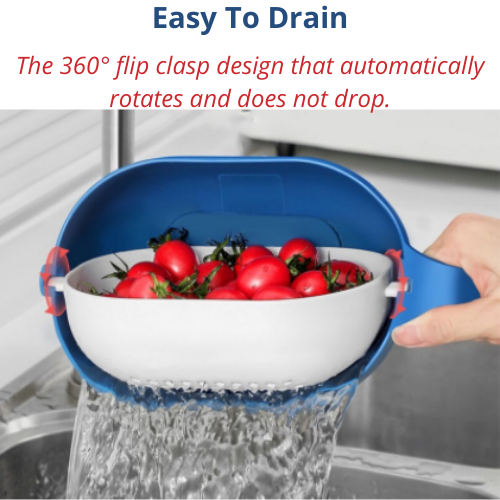 Unique Drainage System!
Comes with a unique drainage system that has a 360° flip clasp design that automatically rotates!
It is easy to clean because all the parts are stackable that can be easily removed! Includes a handguard that protects your fingers from accidental hurt during slicing! 
The blades are made of heat-treated stainless steel that is extremely sharp and doesn't rust! Make professional-looking garnishes such as onion rings, Ceasar salad, apple chips, vegetable pizza toppings, potato nests, and more!

This Multifunction Chopper is a wonderful kitchen gadget that can make your salad-making easier!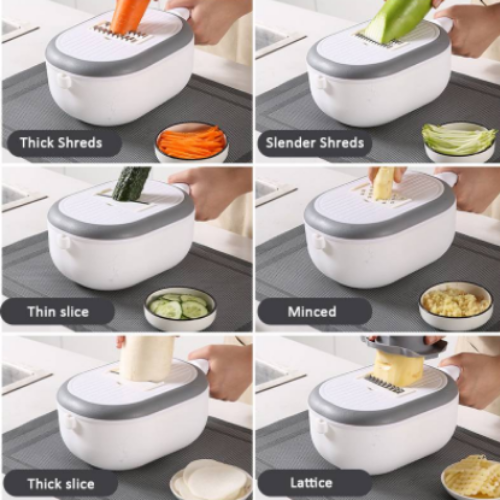 Food-Grade Stainless Steel & BPA-Free ABS Material!
It is dishwasher safe and not hazardous to your health!
Eliminate the need for a cutting board by using this useful and durable Multifunction Chopper!
Made of high-quality food-grade stainless steel and BPA-Free ABS material!

Product Specifications:
Material: Stainless Steel + PP + ABS
Color: Blue, White, Pink
Weight: 580g
Size: 12.4x 5.9x 4.13 in
Package Includes:
1 x Multifunction Chopper
1 x 3mm slice cutting blade
1 x 1.5mm slice cutting blade
1 x Ripple slicer
1 x 4x5mm 3x3mm Grater
1 x Grater 1 x Egg Separator
1 x Cutting Board
1 x Water Filter Basket
1 x Hand Guard
1 x Container
Share